Main Menu

March 6 - An Interview with JOHNNY LUST

I've long gotten emails from people claiming to be musicians begging for spots on FJ Radio. Most of the time it's done through a "street team", which is usually just a fancy way of the artist removing himself from the act of begging for publicity. Very few of those go answered. I've also sent emails to random musicians asking them if they'd like to talk to me and have a little fun answering questions that might not normally be asked. Very few of those asked bother to reply.
So, a few weeks ago I was going through my mailbox and noticed an email from Johnny Lust himself. No street team, no representative, just Johnny. I'd heard the name before, but it didn't ring a bell at first. So I did a little homework and quickly realized that Johnny has quite the musical resume, and has stayed pretty busy over the years. Furthermore, he actually took the time to seek me out! And when I sent off a list of questions figuring I'd never hear from him again, he had his answers submitted within 24 hours! Let's not waste any more time - heeeeeere's Johnny!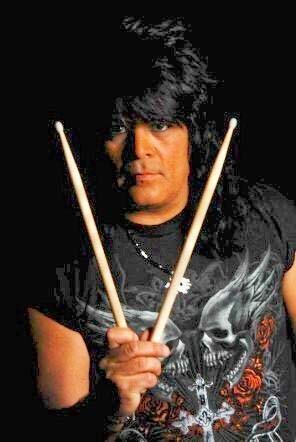 Johnny Lust
First, who are you and why should I care?
My name is JOHNNY LUST and you should care because my mother is probably reading this and she would think that that was nice if you did...

You called your former band, Dizzy Bitch, the "band who started it all back in 1981". What exactly did you start and did you ever wish you could stop it?
Lol, DIZZY BITCH started the whole "Hollywood glam thing of the Eighties" back in 1981... It was a non-stop party that lasted 7 years!!! I left DIZZY BITCH breifly for about 7 or 8 months in 1984 to join BLACKSTAR (future CREATURE band member's TRIXX IAN VITOLO and KRIZZI K. KRAUZ) but returned quickly to rejoin DIZZY BITCH to record the debut DIZZY BITCH album "In The Pink"... And no, I'm glad the whole DIZZY BITCH thing did what it did and didn't stop... It was a very fun time in my life... Being young and crazy was awesome!!!

Have you ever sold an album through a label and NOT from your garage or the trunk of your car?
Yes... The DIZZY BITCH album was released on the Azra International Records label... Haven't sold any from my garage or car trunk yet but that's a great idea!!!

What are you doing now? When's your next show and who's in the band?
I'm answering these questions!!! Duh!!! No, seriously, I perform in PLAYGROUND... We bill ourselves as "The Tribute To Classic Rock Music Show"... PLAYGROUND is an "all-star" classic rock band based out of Las Vegas, NV... PLAYGROUND band members are: FRANK DiMINO voc (ANGEL), OZ FOX gtr (STRYPER), me, JOHNNY LUST on drums and MARK FERRY bass (THE RICHARD GREICO BAND)... Our next show is this Fri & Sat March 6 & 7 @ The Splash Caberet located in the Aquarius Casino Resort (1900 S. Casino Dr.) in Laughlin, NV, 8pm - 1am both nights... A complete listing of our performance dates are at: www.myspace.com/lvplayground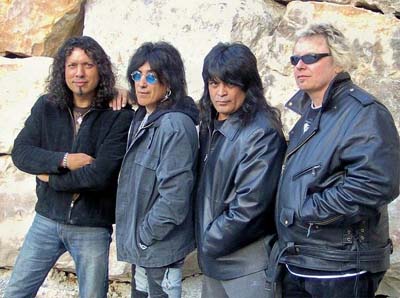 PLAYGROUND - Oz Fox, Frank DiMino, Johnny Lust, and Mark Ferry
So you're playing in a classic rock cover band with Oz Fox from Stryper? Is he hard up for money too?
Lol, lol good one!!! Everyone needs money... Even you my friend... Lol, We just love playing and performing or talents... We make pretty good dough doing what we're doing... Lotta fun...

You've made no secret that you're a born-again Christian. How do you reconcile your stage name, propensity to advance the hedonism of your past, and the rock n roll lifestyle with those beliefs?
I've always been a Christian just moreso now than ever... My past is just that and I wouldn't change it for the world... I have a lot of great, amazing and wonderful memories... I'm actually in discussions for releasing a book about my life... I thank GOD everyday for my past, my present and my future... I'll always be JOHNNY LUST and I'll always say "JESUS loves us" (lol, thanks ANNIE LOBERT)...

What's the biggest crowd you've ever played in front of?
BAY CITY ROLLERS concert @ The 2005 San Diego Irish Festival (Approx. 15,000) My first gig with BAY CITY ROLLERS...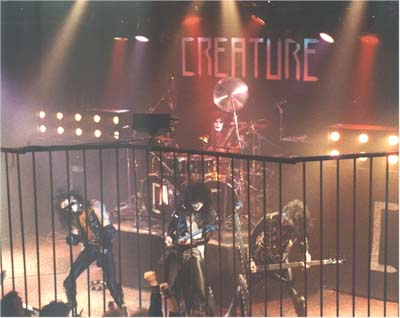 CREATURE's killer live show
You played in Creature, who were once seen as 80s heirs apparent to KISS. How did that come about?
In the summer of 1987 I left DIZZY BITCH and joined CREATURE who's band members were TRIXX IAN VITOLO gtr, KRIZZI K. KRAUZ bass me, JOHNNY LUST on drums and MARK MINX voc... This was a great band... Then MARK MINX was asked to leave the band and was replaced by new singer BILLY B. NASTY... THE NASTY was one of the greatest front-men ever, period!!! Simply awesome!!! Then KRIZZI was asked to leave the band and was replaced by SCOTTI GHIDORA... He lasted 3 months and was replaced by new bass player SEAN SPARX... This new form of CREATURE was known as "The Rage In The Cage" simply because we performed in a giant cage!!! Very cool!!! An amazing stage show!!! I guess the media were comparing us to ealy KISS which was fine by me... I love KISS!!! They weren't wearing their KISS make-up and costumes then so we took over with the whole mystique, "larger than life" persona so it just worked... The fans loved us!!! it was great!!! It was either THE NASTY or TRIXX that hooked us up with BILL AUCOIN...

What was it like working with Bill Aucoin?
All I have to say about BILL AUCOIN is that he's a great guy, very smart and boy, does he like to party!!! TRIXX eventually left the band and his replacement was new guitarist WIZZY... A great guitarist and songwriter too...

On one of your Creature press releases, you bragged about dating a girl that was 16. Lead guitarist Trixx bragged about having a 14 year old girlfriend. Even if it's just bravado, it's kinda creepy. Do you think that was a good idea?
I remember TRIXX always liked pushing the envelope and of course, I was right there in the midst of it all!!! Lots of fun let me tell you... Man, do I got stories!!! As far as my 16 year old, this is the truth behind that... I met a girl named JENNIFER DAVIS at a KING DIAMOND Concert at The Celebrity Theater in Anaheim, CA... I smokin' hot, awesomly beautiful blonde, blue-eyed little girl... Love at first sight for sure!!! I asked her if she wanted to go back-stage and she said yes... She told me that she was eighteen and I remember I thinking, "JESUS loves me"!!! The rest is history... We very quickly became girlfriend and boyfriend and I was in heaven!!! Well, she went off to Hawaii with her family for a few weeks in that summer and when she got back, she said she had a surprise for me... She drove up in a brand new red sports car and told me that it was a gift from her mom and dad for her senior year for high school... I couldn't believe it... What a trip!!! She dropped the bomb on me for sure!!! She was actually sixteen when I first met her!!! We had already been involved for like 3 or 4 months and were in love with each other so we just stayed together... We were inseperable!!! I was with her for 3 years or so... She was amazing!!! I hope she's doing fine... all the drugs and partying screwd up that relationship... I wish I could tell her how sorry I am for the bad times... I'll never forget her...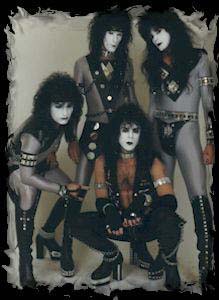 CREATURE promo shot
Why did Creature split up?
CREATURE broke up because of me... The band wanted to change the image, name, the direction, and the concept of the band... The music style had already changed with the addition of new guitarist WIZZY and that fine but that's where I stopped it... I didn't want to move forward with the changes... I can now admit that my decision making back at that period in time was not of sound mind... I was partying way to much, doing way to much cocaine and I'm sure it played a big part in CREATURE's break up... I know it did and I'm truely sorry for that... Looking back on that day, I should've moved the band through that door... GOD only knows where it could've led us... There's not a day that goes by that I think "what if"... Sucks...

What would you call the highest and lowest points of your career thus far?
The highest points in my life was when I was with DIZZY BITCH, CREATURE and especially now being with PLAYGROUND... I never thought in a million years that I would be in a band with FRANK DiMINO from ANGEL and OZ FOX from STRYPER... I love both those bands!!! It's truely an honor to be able to say that these two heroes of rock music are my friends... I think of them like family... MARK FERRY's (PLAYGROUND bass player) a great guy too and think of him the same too... My lowest point in my career was when I was hooked on crack cocaine... I lost everything of course and was living in my van... It wasn't pretty... I couldn't shake it and I was a mess... Then THE LORD dusted me off and blessed me with a second chance... I thank HIM every day for this second chance that HE has bestowed upon me... Thank you JESUS!!!

Who are your biggest drumming influences?
Drumming influenses are: TERRY BOZZIO (took lessons from him for 2 years), NEIL PEART, TOMMY ALDRIDGE, BUDDY RICH, GENE KRUPA, BARRY BRANDT, PETER CRISS, MITCH MITCHELL, STEVE SMITH, DANNY SRAPHINE and JAY OSMOND...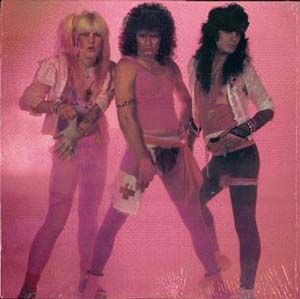 DIZZY BITCH, getting ready to do aerobics
Could Dizzy Bitch have looked more gay? And if so, how?
Yes we could have looked more gay... How you ask??? Lol, Use your imagination... You'll come up with something...

You also played drums for FiFi Larue. While he's taken quite a pounding, he's certainly made a name for himself over the past few years. Did you ever think that would happen? And if so, why did you leave his band?
I have FIFI to thank for wanting me to play drums for him, No, really, I do!!! Seriously... When I joined his band, I was actually a stage manager / drum tech for the band SPEAK NO EVIL (Abrupt / Universal Records)... I had stopped performing... When I started performing again, FIFI just happened to need a drummer so I was in... FIFI LARUE is what it is... When I was in the band, it was actually a pretty friggin' good band... It had to be to carry FIFI (not meant to be a joke about his weight) because without a killer band behind him, FIFI LARUE isn't really that good... When I was with FIFI LARUE, he was just okay... He had his cleaver momeants I guess but just because he basically bought his way (pay to play) to open for the famous bands in his track record doesn't make him a true musician... It makes him a bad business man at best... Having to pay for your poularity is a sad thing...

But, in all honesty, it was fun playing those shows... Look, it's true that he's knows C.C. from POISON and ERIC SINGER from KISS and and GILBY CLARK, and RYAN ROXIE, etc.... And yes, it's true that they all at some point in time recorded tracks for FIFI but everyone's missing the point or joke I should say... And the one who's missing it most of all is FIFI himself... It's kinda sad... This is what I mean... FIFI is a pretty good interior and exterior house painter... He's done painting jobs for all of the above rock stars mentioned above in this answer... I don't know who his first rock star client was but is was a trade type of deal... FIFI: "Hey man, I'll paint your house if you play on my demo, okay?" type of thing... Well, we all know what a small world it is in the rock and roll industry right??? I'm sure the lingerimg joke at the "rock n roll water cooler" was probably something to the effect of: "Hey Gilby, if you need your house painted, there's this guy named FIFI and he'll do it if you record some tracks for his demo, blah, blah, blah... The sad thing is FIFI himself has admited to this and he doesn't realize that the jokes on him and that the rock stars just used him for his painting skills and not for his musicianship quality... Probably do to the fact that back then he would do anything to establish himself as such... I menn think about it... Do people really think that if ERIC SINGER needs a vocalist for a solo project that he'd call FIFI??? Of course not... The other sad thing is that FIFI actually believes that they played on his demo because they think he's cool... It's all the years of paint fume exposure that has jacked up his way of thinking... Sad...

I asked C.C once about him recording on FIFI's demo and all he said was "Huh, what??? Who??? Unbelievable... Anyway, I wish him all the success in the world...

Also, did you know that he was using a demo which featured your playing on it as recently as 3 years ago? Do you still have a copy of it?
I wasn't aware of him using my tracks... Typical but I don't care... Maybe I'll see money out of it some day but I won't hold my breath... Yes, I have a copy of the material somewhere... The song Baby Killer's turned out pretty good I remember... That was fun recording that song...

If Gene Simmons asked you to play for KISS on the condition that you had to dress like Peter Criss and do it for $15/hour, would you?
Of course!!! Absolutely!!! I'd do it for free!!!

Who cuts your grass?
Some mexican dude...

Who's the most famous person you have in your cell phone? When was the last time you talked to him/her?
KELLY CLARKSON... Left her a message today...

You've played in dozens of bands. If you could erase any band from your resume which one would it be? If you could reassemble/join any band again, which one would you join?
I wouls erase none of them... I loved playing with all of them!!! There's talk of a CREATURE reunion for late 2009... We'll see...

What are you listening to these days?
Not the radio... I've been listening to the DIZZY BITCH recording of "In The Pink"... I released a DIZZY BITCH Collector's Package complete w/ cd, dvd, 8' x 10" photo, original DIZZY BITCH flyer, etc.!!! It's very cool!!! I've also been listening to a cd I released last year called SNAILHEAD.... SNAILHEAD is great music too!!! Both the DIZZY BITCH Collector's Package and the SNAILHEAD cd are available at: www.myspace.com/johnnylustdrummer

Any famous last words for fans who might be reading?
Thank you to all who have stood by me in my career over the years... I love you all so very much... Also, give up all that you do to Christ JESUS and sit back and watch your life change for the better... I'm living proof that THE LORD truely blesses those who allow HIM to do so...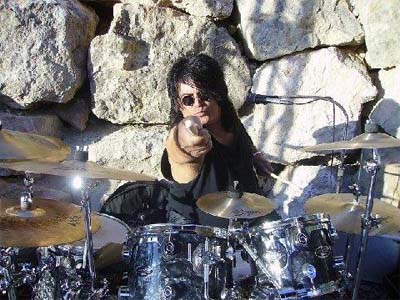 JOHNNY LUST

Please visit:
www.myspace.com/johnnylustdrummer
www.myspace.com/lvplayground
www.myspace.com/lb3longbeach
www.myspace.com/jordanscry
www.trixxianvitolo.com/creature.htm




All in all, that was an enjoyable read. Thanks to Johnny for spending some time with us and answering my stupid questions. Go check out his projects above, but pack a lunch first. He's a busy guy and there's a lot to see and hear! Or you can leave a comment below.

|
---